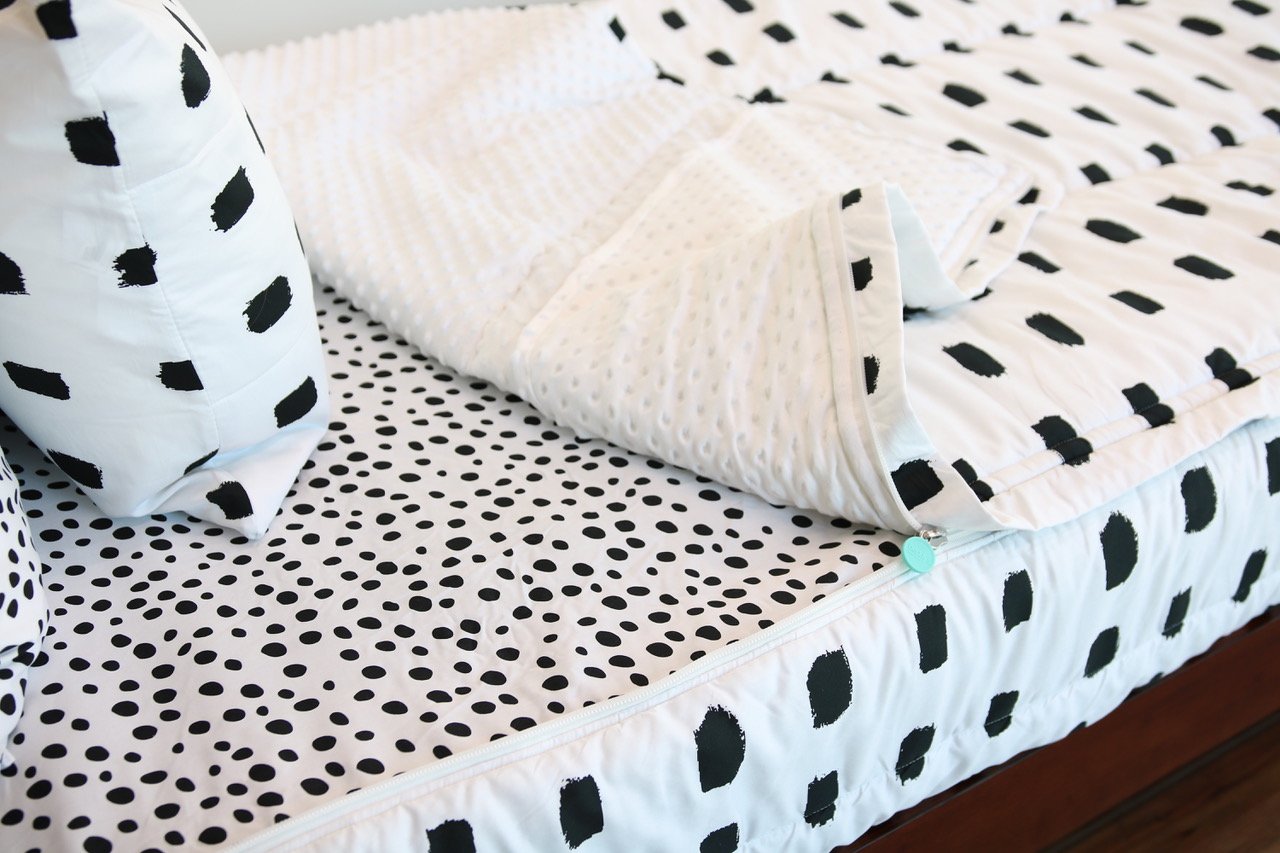 CLICK THE IMAGES ABOVE FOR DIRECT LINKS TO EACH SHOP!
Honestly when Duke was about 3 years old I started dreading the switch from a crib to his big boy bed… but soon enough he was 4 and the time had come!
I did a bunch of research on bedding and beds and as soon as I saw the montessori style house frame beds I just knew he would love that! So next we had to find a company that made one, my requirements were solid wood, a high frame (because we are all tall and didn't want to be hitting our heads) and a railing.
More than Duke just having a cute bed I wanted to make sure we were making him feel safe in his new space. He typically doesn't like change, so I wasn't really worried about him rolling out of a bed but I knew that a rail would emotionally support him also :) #sensitiveboymom
I looked at major furniture/ kids stores like pottery barn and crate kids etc.. but then I found Zipadee Kids on etsy and it looked like the perfect fit; Zipadee Kids is based in Ohio and was founded by a husband/wife team, Matt and Amanda Whited in 2017. Matt and Amanda work together on each product from start to finish. I loved their story and they had competitive pricing for this market and I decided it was a perfect fit! We decided on a twin size because he has a small room but I felt like this size could honestly grow with him for a few years which made the investment of the bed more reasonable.
Delivery was so quick and install was pretty intuitive and easy, all the holes come pre-drilled. We did use a few extra screws to make it super sturdy. Also in full transparency we had a handyman come built it but it only took him a little over an hour, if you are handy yourself you'll be fine.
Next I wanted to be sure we found a mattress that could hold up with Kyle and I laying in it. Duke has his own bed time routine and we do not co-sleep (no judgement that just doens't work for us) but I did want to be able to lay with him and read books and I am not a small woman, haha so I needed a sturdy mattress.
I ended up going with Linen Spa 8 inch foam/inner spring mattress. It had amazing reviews on amazon and seemed like it would perfectly fit the bed, plus it was under $200 which felt like a deal!
Ok now for one of my favorite parts, the bedding! Ok so at first I just bought a twin fitted sheet that was organic cotton on amazon that I thought I could quickly use with his blankies that he already loved. But this was a huge mistake! Climbing on the floor and making the bed and trying to get the sheet/ blankets to fit nicely was a nightmare! After a couple weeks I was sooo annoyed and I started googling "how to make a twin sheet fit tightly" and I found some weird clip things that looked like a huge hassle to secure every time you made the bed but then I saw the brand Beddy's!
The easiest way to describe it is its like all the bedding you need built together like one fitted sheet. It's zip up bedding that sort of works like a sleeping bag. I had no idea how much I was about to fall in love with this bedding! I literally want to stop moms on the street and tell them to get one of these!
The bedding is all one piece, you put it on over the mattress like a fitted sheet and it fits snug and then there are two zippers on the side that zip open into a cozy top blanket. So in the morning you can just zip the two sides up and the bed is made! After I ripped open the box and washed and put it on I loved how it looked like a professional made the bed (yay for busy mommas), and the interior was lined with a minky fabric which Duke loves! The next best part, when its time to wash it you just throw the entire piece in the wash.. its literally like removing one sheet!
Favorite features of the bedding:
Looks like a perfectly made bed. Even 3/4 year old can help you make it up.

Super easy to climb into a kids house bed or better yet bunk beds and just pop the entire thing on.

Comes off in one foul swoop when your ready to wash it

Fabric is super cozy (and trust me my child is picky) and the print is modern and adorable
3. BEDDYS DASH BEDDING: $249 for the set but use code STYLINGBYLIZZIE20 !
As I mentioned Duke is a creature of habit but either we got lucky or mama got all the right pieces, because he transitioned into his own big boy bed like a champ! He felt cozy and safe in his new bed space.
I wish before I spent hours researching every little detail I had stumbled upon someone sharing all these elements, so I hope this was helpful for you guys!